Anker PowerCore III Elite 26K 87W USB-C PD Portable Charger
Keep your phone and tablet charged for days, or to give your USB-C laptop a full charge thanks to the 26,000mAh capacity. (26,000mAh is the total of the nominal rated capacity of internal battery cells )
Connect to either USB-C port to get a powerful charge up to 87W. Fully charge a wide range of laptops including MacBook Pro 15" and Lenovo X! in less than 2 hours.
Dual USB-C ports and dual USB-A ports offer a total 78W output, so you can charge a laptop, tablet, phone, and more—all at the same time.
To recharge, connect a wall charger to either USB-C port. A 65W wall charger to give PowerCore's internal battery a full recharge in just over 2 hours, while a 12W charger will take over 9 hours to recharge.
Anker's MultiProtect safety system combines temperature control, high-voltage protection, and much more to deliver a safe charging experience for you and your devices.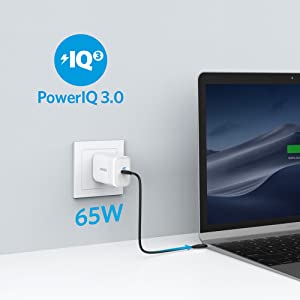 Everything You Need
An included 65W PowerIQ 3.0 charger allows you to recharge your PowerCore straight from the box, and can also offer powerful charging to your other mobile devices.
Simultaneous Charging
A 60W USB-C port combines with dual 18W USB-A ports to offer simultaneous high-speed charging to up to 3 devices. Note: the total max output when charging 3 devices is 75W.
Safer Charging for Accessories
A trickle-charging mode is designed specifically to provide safe, stable charging to low-power devices such as Bluetooth earphones.